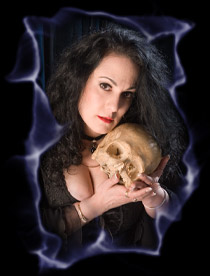 Renowned Salem Witch Leanne Marrama has been with Festival of the Dead since October of 2004 and is a High Priestess and Elder in the coven Raven Moon. She has read the cards and interpreted dreams for more than 18 years, a gift passed down to her by both her Italian mother and her Strega grandmother.
Leanne realized early on that she could tune into people through the sound of their voices. She is able to pick up information quickly and easily this way, seeing past illusions and falsehoods to the truth. Her warm, friendly manner and sense of humor make her easy to talk to. She believes in working with the whole person, viewing the big picture through her psychic vision. Clients describe her as sensitive, empathic, and down-to-earth. This has made her one of the most sought-after readers for both her clients and visitors to Salem.
Leanne hosts Messages from the Spirit World: Salem's Only Authentic Seance and co-hosts The Mourning Tea with Salem Witch Sandra Mariah Wright.
Leanne has been featured on Channel 7, MyTV, The Boston Globe, The North Shore Sunday, and The Salem News.