This Event Will Return in Future Years
Journey into the unknown with ghost hunter, author, and radio personality Ron Kolek and his team of experts as you learn to be a paranormal investigator like the ones seen on such shows as SyFy's Ghost Hunters, A&E's Paranormal State, and The Travel Channel's Ghost Adventures! Founder of the New England Ghost Project and co-host of popular radio show "The Ghost Chronicles," Kolek has explored and documented some of New England's most haunted houses. This October, you can take part as he and his ghost hunting team investigate the haunted city of Salem Massachusetts!
You don't have to be a psychic to prove the existence of spirits. With the right equipment, you can develop the skills necessary to begin your own ghost hunting expeditions! Learn to examine evidence of potential haunting to determine whether unexplained phenomena are the result of authentic supernatural manifestation. Using real-life ghost hunting gear, you'll conduct your own paranormal investigation into the presence of spirits within The Hawthorne Hotel, one of Salem's most haunted sites!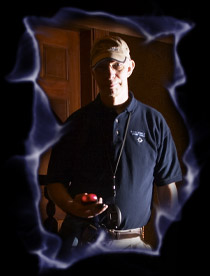 Explore methods of ghost photography using infrared, digital, thermal imaging, and the latest full spectrum cameras and learn to identify the different kinds of photographic manifestation, such as orbs, apparitions, and ectoplasm
Work with Electro-Magnetic Field meters and thermal scanners, including such units as the popular K-2 Meter and Mel Meter to detect if mysterious changes in the environment could be caused by spirit activity
Learn to capture ghostly voices and communicate with the dead using EVP (electronic voice phenomena), ghost boxes, and PX Ovilus machines
Track the movement of spirits using a laser grid
Witness a gallery of ghost photos that show inexplicable phenomena captured on film.
Hear chilling tales of true hauntings.
Use ancient methods such as dowsing rods, pendulums and glass swirling to communicate with spirits, demonstrating how technology and psychic awareness work hand in hand.
Enjoy spine-tingling appetizers and a cash bar brimming with spirits.
Every guest will receive an audio CD, playable on any CD player, of actual EVPs captured by Ron and the New England Ghost Project during their many adventures.
The evening ends with a real Salem ghost hunt to investigate the paranormal evidence of our city's mysterious legacy. Join us on a voyage into the unknown as you learn to become a practicing ghost hunter!
Inquire About This Event
For questions about Spectral Evidence, click to email Ron Kolek.
Photo Credits
Top and side photos by Jeff Dachowski of Dachowski Photography
Subscribe to The Scarlet Letter!
Get monthly updates for Festival of the Dead, HEX, OMEN, and Salem Witch Walk!